Features of SyncCore Cloud
Today, we will talk about SyncCore Features, the importance of SyncCore Services, and why SyncCore is so popular.
So, let's start SyncCore Features.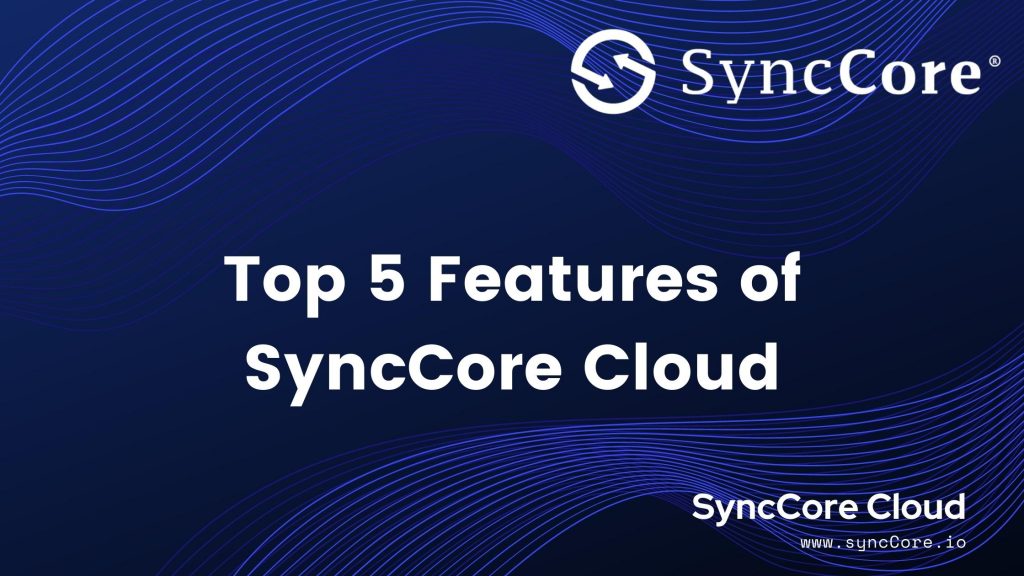 What is SyncCore?
SyncCore is a cloud-based platform that allows enterprises to create solutions using interconnected cloud services. It also provides a number of pre-built services that businesses may utilise to build their own cloud-based solutions.
Because of the services it offers, many businesses, large and small, trust SyncCore. You'll need servers to meet your demands if you're beginning a business.
A feature in SyncCore allows you to choose servers depending on your preferences. These SyncCore features will save you time, money, and help you realize your full potential.
SyncCore assists businesses by offering high-quality services and providing ongoing support. A business can be run on a smartphone or a desktop computer.
Security:
Because so many businesses rely on SyncCore, the data they supply is kept as secure as possible. The advantages of SyncCore enable customers to scale and develop. Customers only pay for the services they really utilize.
24/7/365 Support:
With SyncCore's built-in services, you can manage and safeguard your company's digital assets. You have complete control over which security elements to employ and who gets access to them. You keep control over your organization's specific security standards while your data is safely kept on the cloud.
Here is an overview of the most common SyncCore security features you'll need to keep your cloud secure.
24/7 Support (Email and Phone Support).
On-Call L4 Technicians (P1 & P2 Issues).
Dedicated Migration Team (Workload).
Account Manager (Customizing Available).
Application Support (Any Application Level).
Virtual IT (Managed Cloud Support).
Cost-Effectiveness:
The cost is 300 % lower when compared to other service providers such as AWS, Azure, and Google Cloud.
Reliable:
Dashboard packed with powerful features – 99.999% uptime, Multiple Data-store support, Virtual Data-centre across various geographical locations.
Backups & Data Recovery:
SyncCore replicates your data over many storage servers and backs it up using SyncCore Backup Servers to a different storage cluster.
Dedicated Backup (File Level Backup).
Unlimited Snapshots (Flexible Retention Policy).
Spinning Disk Storage (High Performance).
Conclusion
Here we've studied SyncCore features and why SyncCore is popular nowadays. This will help people to grow their organization. In addition, SyncCore Features provides database and storage along with security. Hope this article was informative for you; leave your suggestions in the comment box.
Get in touch with our Sales Team for a quick demo:
[email protected]
Learn More About SyncCore Cloud
Read More:
Top 5 Reasons More Businesses Are Choosing Cloud