AWS Vs SyncCore Performance Comparison: Many businesses and institutions have begun incorporating cloud computing into their operations since the world's pandemic hit in 2020. Companies have chosen cloud computing services over on-site data centers as more employees work from home.
Although cloud computing is not new, its importance has grown in the last year and has transformed how businesses and institutions operate. Companies now rely on this service, which is expected to grow by 35% in the first quarter of 2021. Companies are also jumping on board with the massive digital transformation. The days of traditional data management and communication are over.
Businesses can benefit from three types of cloud computing services: software as a service (SaaS), platform as a service (PaaS), and infrastructure as a service (IaaS) (IaaS). These services are always hosted and maintained by providers who invest in and acquire the necessary hardware and software. Providers also support servers and storage facilities. They can then provide these services on a large scale to clients of all types, whether individuals, businesses, or institutions.
The services then assist businesses by lowering the costs of owning and managing on-site infrastructure and facilitating scalability. Client companies can better manage their resources with the help of the pay-for-use pricing model. Most of these platforms are also self-service, so businesses do not have to wait to speak with a company representative before they can begin using the services.
There are numerous cloud service providers on the market. In this guide, we compare the two cloud providers to assist you in making the best choice between them.
This article compares two cloud computing service providers so businesses can see what they offer. This guide will assist you in reaching the features and tools. When selecting a cloud service, it is critical to consider the core features, price, services, storage availability, and the provider's market reputation.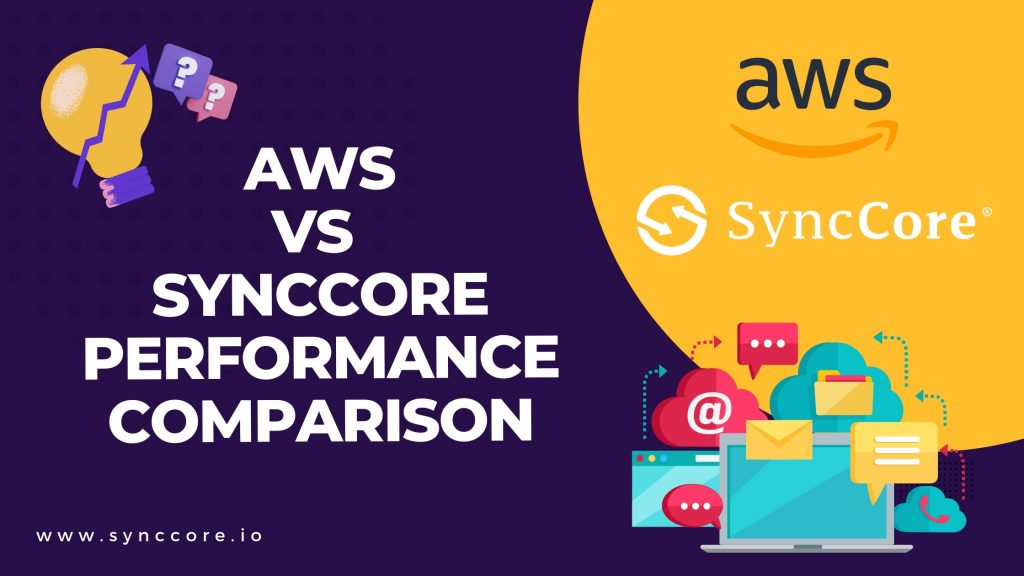 AWS Vs SyncCore Performance Comparison
AWS
AWS is a Cloud Computing platform that allows you to build cloud-based applications. It provides various services, including infrastructure and software services, as well as computing power, scalability, reliability, and secure database storage. AWS can be used for quality development because it provides over 200 products and services globally.
It was founded in 2002 and initially provided only web-based services before expanding to cloud computing in 2006. This makes it the first cloud computing service provider.
AWS is a platform that offers its clients and users compute power, database storage, content delivery, and other services. Its goal is to assist developers in creating sophisticated applications that are flexible, scalable, and dependable.
The featured services of AWS are as follows:
User-friendly
Flexible
Secure
Cost-effective
Scalable and Elastic
Reliable
Highly Performant
SyncCore
It provides on-demand cloud computing services and APIs to its clients. It was founded in 2012, initially only providing cloud-based services, but it expanded to cloud computing in 2018.
SyncCore Cloud is the first autonomous cloud platform. SyncCore is a cloud revolution for SMEs and Enterprise Companies. It provides low-priced cloud computing services to help your organization meet its business challenges, giving it an advantage over Azure, AWS, IBM, and GCP in the market.
SyncCore is a platform that provides backup & disaster recovery, database storage, virtual desktop, cloud Iaas, and other functionalities to its clients and users.
SyncCore is available in 6 Countries: EUA, Canada, South Africa, UAE, Singapore, and India, and New York City is the primary data center.
The featured services of SyncCore are as follows:
Save More & Pay Less
Security Offerings
No Contract
White Labelling
DDOS Protection
Console Access
Artificial Intelligence
Custom Template
On-The-Fly Config Changes
Near-Zero RPO Replication
Which Choice is Right for Your Business?
The best option for your company is determined by your needs and understanding of the service's features and pricing.
Choosing the right cloud vendor is critical for businesses. SyncCore offers a hybrid solution, PaaS, and a variety of other essential capabilities in today's Cloud strategy. Many companies have increased their business growth by migrating to SyncCore Cloud.
As a result, SyncCore is a far better alternative to AWS. If you require cloud services, please contact us at [email protected] or visit our website at www.synccore.io.