Small and large businesses constantly migrate their operations and applications to the cloud. It's a secure, easily accessible, and less expensive storage option. However, as organizations continue to adopt cloud computing, a new type known as edge computing is emerging.
The Difference Between Edge and Cloud Computing will be discussed in this article, so without further ado, let's get started.
The Difference Between Edge and Cloud Computing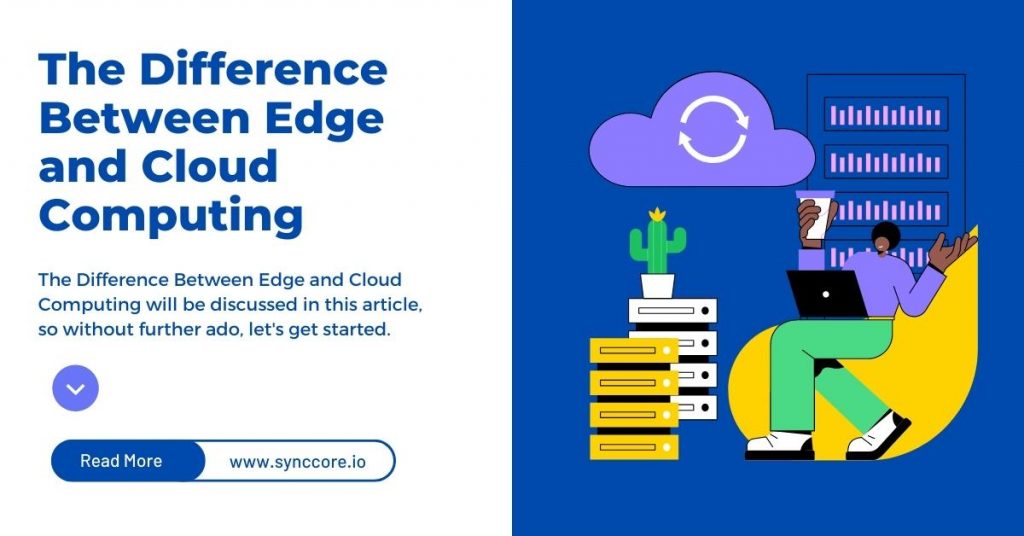 Cloud Computing
Cloud computing can be defined as the delivery of computing services over the internet (cloud) in order to provide flexible resources, faster innovation, and economies of scale, and here we can point pin:
Databases
Servers
Storage
Networking
Software
Intelligence
Analytics
Today, cloud computing accounts for more than 28% of an organization's IT budget for storage, software, and solutions. Furthermore, 70% of businesses have at least one cloud-based app. Cloud infrastructure is being implemented by businesses due to the lower upfront cost of not requiring hardware infrastructure. They also have variable pricing based on the number of users or devices involved or the amount of data stored.
Many users also appreciate the simplified IT management that cloud service providers provide to their customers across various platforms. Cloud computing saves time and resources and is easily scalable based on the size and budget of any organization.
Examples of cloud computing providers are:
Amazon Web Services (AWS)
SyncCore Cloud
Google Cloud Platform (GCP)
Alibaba Cloud
IBM Cloud
Microsoft Azure
Oracle Cloud
Edge Computing
Moving computing power (distributed computing framework) closer to data sources, such as an Internet of Things (IoT) device, sensor, or server, is what edge computing entails. As a result, the computer is now at the network's edge, giving it more power, faster data processing, easier data access, data sovereignty, and increased bandwidth.
By processing data at the edge, there is less need for large data communities to travel through the cloud, devices, or servers to be processed. It is also necessary for data and modern applications such as IoT and artificial intelligence (AI), which require a large amount of data to be processed.
Edge computing addresses cloud computing's shortcomings, such as limited bandwidth, data security, latency, and availability. Furthermore, the proximity to the network and data at the edge provides significant business benefits, such as faster insights and better bandwidth availability.
Examples of edge computing providers are:
Amazon Web Services
Microsoft Azure
Dell Technologies
ClearBlade
EdgeConneX
Is Edge Computing Part of Cloud Computing?
If the computer's storage and capabilities at a network's endpoints are pooled, abstracted, and shared across a network, edge computing devices may contribute cloud resources. This allows it to be part of a larger cloud computing infrastructure, but with little to no latency and higher bandwidth.
Edge computing, on the other hand, is not a component of cloud computing. Instead, edge computing is valuable and superior because it deliberately separates from cloud computing and clouds in order to be closer to data endpoints.
Conclusion
As technology advances and data generation increases, data processing efficiency, time, and access become increasingly important aspects of storage. While cloud computing is still in its early stages of adoption, edge computing is emerging as a better option for reducing the need for a central processing system. Companies are also working to improve data processing and access, which means that new computing methods may emerge.

If you require cloud services, please contact us at [email protected] or visit our website at www.synccore.io.
Read More:
Cloud Computing Business Agility: How the Cloud Can Increase Your Business Agility
Cloud Services for Business Continuity and Disaster Recovery