Cloud Computing Trends
Cloud computing is changing the way businesses operate daily. The degree of change most companies are introducing in their current processes reflects the transformative effects of cloud-based computing systems.
Cloud computing trends for 2022 show that companies will continue to use the cloud to modernize operations and expand IT capabilities, demonstrating rapid adoption and growth. Cloud technology has emerged as a critical resource, increasing companies' reliance on disruptive technologies.
Enterprises and small and medium-sized businesses (SMBs) are quickly realizing the benefits of leveraging cloud-based applications. The top cloud technology challenges revolve primarily around budgeting. Most organizations are expected to spend more than 30% of their annual budget on the cloud, which may be prohibitively expensive for small-scale businesses or emerging startups. Here are the top cloud computing trends that have predominated since 2022.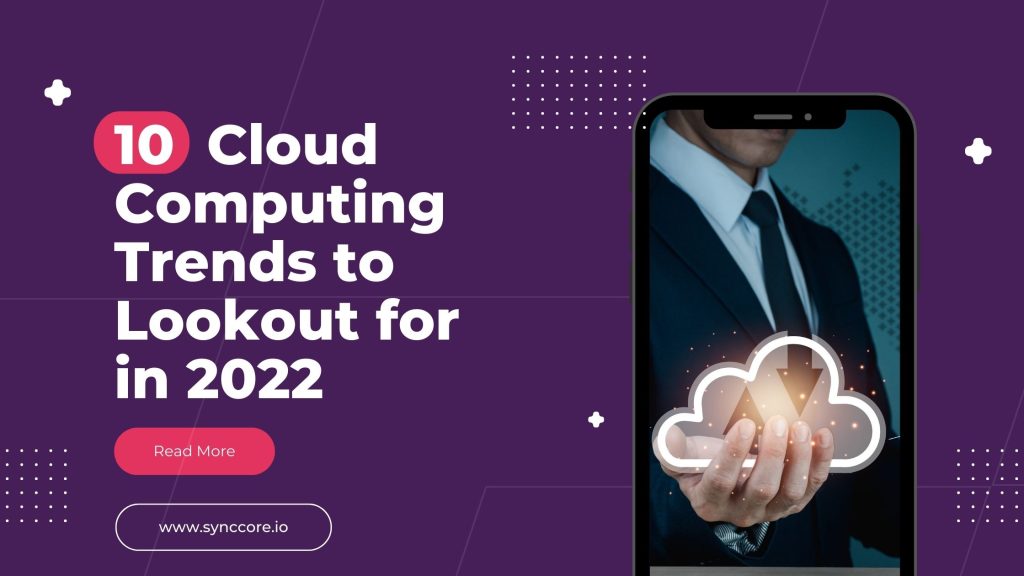 Increased deployment of Edge
Edge computing has gained significant traction since organizations recognized its role in network switching and routing, load balancing, and security. Edge computing is not a replacement for cloud computing; instead, its integration will supplement cloud computing, assisting in the growth and development of the business.
Serverless Computing
Serverless Computing is a cloud model in which the consumer is not responsible for server provisioning or infrastructure management. Still, the cloud operator handles the underlying infrastructure and allocates compute resources based on current needs.
Kubernetes and Blockchain
Although incorporating blockchain technology in cloud computing may appear surprising, most businesses are adopting it because it has emerged as a game changer that solves various complex scaling problems, particularly in data storage and management.
Hybrid and Multi-Cloud Infrastructure
Many people believe hybrid services are synonymous with compromise, but they are more akin to the collaboration of powerful disruptive technologies. Businesses can benefit from the best of both worlds with a well-integrated and balanced hybrid strategy. Most organizations were initially skeptical of integrating hybrid service models, but their popularity has grown.
Rise in Cloud Gaming, AR, and VR
According to industry experts, cloud gaming is expected to grow dramatically in the coming years. The emergence of virtual cloud and augmented reality has resulted in the popular AR and VR headsets becoming increasingly popular as the metaverse grows. Cloud gaming is expected to grow dramatically in the coming years with increased hardware availability.
Workstation-as-a-Service
Workstation-as-a-Service is a good option for businesses transitioning from a physical office to a remote working environment. WaaS is primarily an all-in-one solution that allows employees to access their work anytime and from any device.
Cloud Collaboration
Both these valuable features for remote workers include centralized file storage, document version control, and custom permission settings in cloud collaboration solutions. This process's emergence will undoubtedly spark innovation and growth in technical and business infrastructures in the coming years.
Reduced Security Risks
Data breaches are one of the most serious concerns for businesses transitioning from on-premise to cloud computing. Security breaches increased significantly when the pandemic struck, and global corporations were forced to conduct business online. Integrating cloud computing into business practices will likely reduce these threats while protecting the company's private information.
Native Cloud Applications
Edge computing companies are leveraging cloud-native businesses to meet their various needs. With the popularity of containerization and DevOps technologies skyrocketing, so is the adoption of cloud-native applications.
Spotlight in Sustainability
Most people nowadays want to practice sustainability in all aspects of their lives, including their work and technology use. Most businesses will adopt sustainable technology practices to meet these demands by leveraging the cloud. Companies that take better environmental measures will be the ones to rein in global industries.
If you require cloud services, please contact us at [email protected] or visit our website at www.synccore.io.
Read More:
How Cloud Computing is Changing Management