How Cloud Computing is Changing Management: Cloud computing is changing how products are designed, allowing closer collaboration between the corporate IT department and other business units such as sales, finance, and forecasting. It also encourages more customer interaction, even co-developing products with their customers. New ways of writing and deploying software, in particular, will enable new types of faster-acting organizational designs.
"Cloud native" software approaches emphasize ease of use and low-impact modification of any software application's components. Massive applications are divided into "microservices" that can be changed with little impact on a running piece of software.
Cloud Computing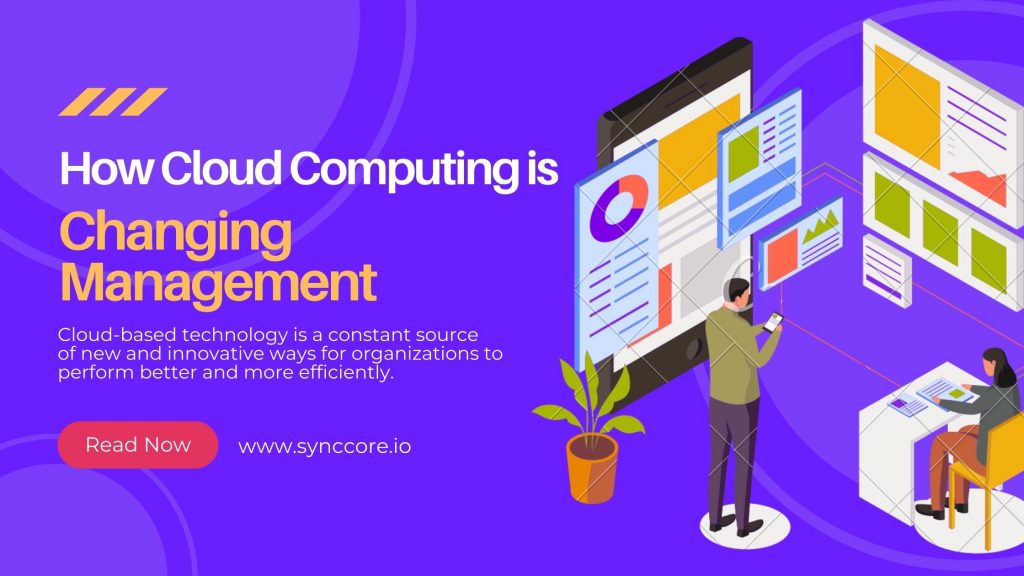 A dynamic organization constantly evolves in response to changing technology and market demands. Several businesses have made significant technological changes to adapt to the ever-changing working environment. Organizations have benefited from creative computing because it allows them to manage themselves better.
Impact of Cloud Computing
Cloud-based technology is a constant source of new and innovative ways for organizations to perform better and more efficiently. It also accommodates employees' remote working needs. The cloud is now being used for all operations, including management processes. Cloud computing has provided a wide range of options, including those for management. Currently, approximately 94% of businesses use a cloud service. In some ways, it is also changing the management landscape.
Understanding How Cloud Computing Is Changing Management
Cloud computing has enabled businesses to move massive amounts of data in a short period. Cloud computing management has fundamentally altered the way we communicate and work. This has paved the way for an entirely new level of expectation, in which organizations maximize the benefits of cloud services.
Allows for faster change processes
Cloud computing business models are designed and built to allow rapid change. Components and licenses are available on demand thanks to cloud-based technology. As a result, instilling change has become quick and straightforward, requiring only a few clicks and operations. It also has an auto-scaling feature, which increases capacity automatically and on demand.
Shift from Control to Enablement
Agile and DevOps have become the cornerstones of cloud solution development; change management must shift from control to enablement. These new approaches are entirely self-managed and repel any attempt to impose bureaucratic power, a defining feature of change management. Cloud technology works to reduce the risk of numerous changes. Adopting the cloud computing business model necessitates focusing on leveraging capabilities and emphasizing change models.
Historically, the main changes in management in the world of information technology have been influenced by changes in information-gathering methods. In the age of cloud computing, information travels at high speeds in both directions across computing systems, and options such as virtualization, scaling up or down to handle larger workloads, or automated security patching across thousands of computers are far more flexible. This necessitates a more flexible organizational structure that responds to customer needs by adjusting itself. This adaptable system relies on rapid data collection, analysis, and, if necessary, over-the-air changes to product software.
The Need for Change Authority
Historically, several change authorities have been assigned based on the change to be implemented. A critical difference, such as cost and risk, would, for example, go to the board for approval, whereas a low-level change might require the data center manager's approval. Product and infrastructure teams must prioritize and decide on changes to move things faster in the cloud.
How Does Cloud Computing Management Redefine Business Functioning?
Cloud computing business models assist organizations in comprehending future processes. It provides an excellent opportunity to identify the impact of change that deployment will have on the organization early in the project's life cycle.
Companies can compare the impact of changes across different application platforms and incorporate this information into their software selection process. An early understanding of the effects of change and delay elements allows businesses to define project scope better and address current challenges.
The steps outlined below will assist your organization in effectively beginning to manage change.
Capture and examine the consequences of change.
Determine the change's level of difficulty.
Make an OCM roadmap, resources, and budget.
Conclusion
As a company responds to market changes, actionable insights are critical for pivoting it in new directions. As a result, companies that want to move their operations to the cloud must carefully consider their options and implementation strategies.
Frequently Asked Questions
What Are the Benefits of Cloud Computing for Management?
Cloud computing has the following advantages for management:
Planning and organizing
Customer experience and product development
Controllability
What Are the Cloud Change Management Considerations?
Change management in the cloud requires three considerations:
Cloud environments enable quicker change processes.
New approaches to solution development necessitate a shift from control to enablement.
Perspectives of change authorities must be adjusted.
What Role Does Cloud Computing Play in Business Change Management?
Cloud environments also make it possible to use a variety of automation, integration, and deployment tools. These tools enable organizations to make small, frequent changes that reduce business risk while increasing business value.
If you require cloud services, please get in touch with us at [email protected] or visit our website at www.synccore.io.
Read More:
Cloud Computing: A Small Business Guide