What are the disadvantages of the AWS cloud? AWS is the fastest growing cloud provider, with over 70 different services. Almost any service you can think of probably already has a specialised service on AWS where you can deploy your setup. Furthermore, you have access to the entire AWS infrastructure.
However, this does not imply that you can do whatever you want. Some disadvantages of AWS are obvious, but others are hidden and should be carefully considered before you start.
Businesses strive to reach the top in today's highly competitive world. It is not easy, but it is easily achievable. Businesses, for instance, use the benefits of cloud computing to make information easily accessible and share it efficiently. They also use it to reduce human errors, ensure business continuity, and disaster recovery.
Amazon launched AWS in 2002, followed by the AWS cloud products in 2006. It offers scalable and cost-effective cloud computing solutions that include, among other things, computing power, database storage, content delivery, and media distribution. Now that you're familiar with AWS, let's take a look at its disadvantages.
What are the disadvantages of the AWS cloud?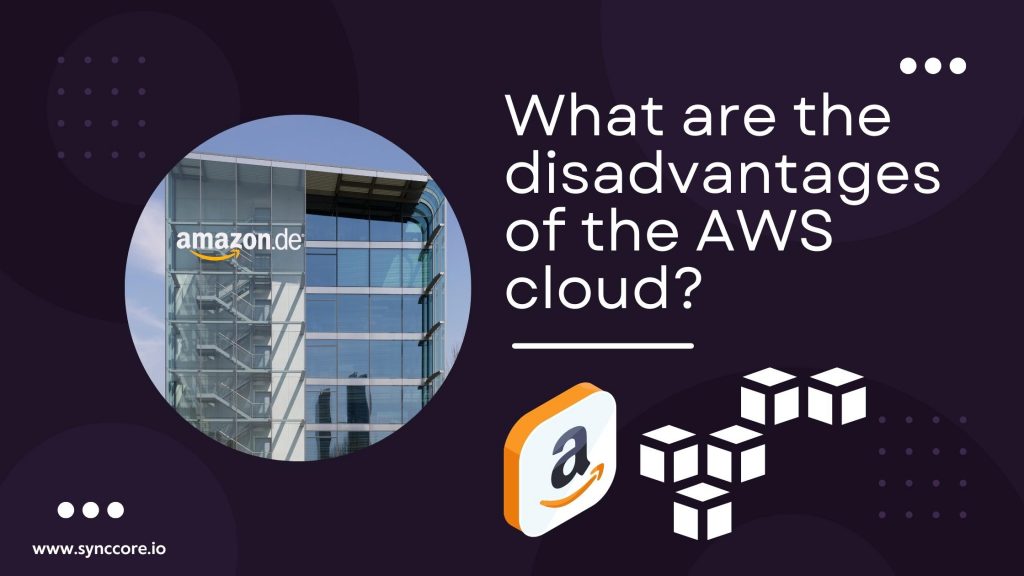 Disadvantages of AWS
All of AWS's advantages are accompanied by a set of disadvantages. As a result, here are the disadvantages of using AWS.
Limitations OF Amazon EC2
AWS establishes default resource limits that vary by region. Images, volumes, and snapshots are among the resources available. You can only launch a certain number of instances per area. It also provides limited information for Amazon EC2 and Amazon VPC console resources. You can, however, request an increase in the limit.
Security Limitations
Even though security is one of the most important features, AWS restricts some of its features that cannot be changed at all:
EC-2 classic- Maximum of 500 per instance and each Security Group can have a maximum of 100 permissions.
EC2-VPC- Up to 100 security groups per VPC.
Technical Support Fee
AWS charges for immediate support, and you can choose from three packages:
Developer
Business
Enterprise
AWS pricing list is mentioned below-
Developer: $29/month
Business: Greater of $100 – or –
10% of monthly AWS usage for the first $0–$10K
7% of monthly AWS usage from $10K–$80K
5% of monthly AWS usage from $80K–$250K
3% of monthly AWS usage over $250K
Enterprise: Greater of $15,000 – or –
10% of monthly AWS usage for the first $0–$150K
7% of monthly AWS usage from $150K–$500K
5% of monthly AWS usage from $500K–$1M
3% of monthly AWS usage over $1M
General cloud Computing Issues
When moving to the cloud, AWS does have general cloud computing issues such as downtime, limited control, and backup protection. These flaws, however, can be overcome with time. As a result, they are only a temporary problem.
As you can see, much of what a cloud computing platform can provide is dependent on the requirements of your project, business, or organisation.
As a result, while moving your work infrastructure to the cloud is a good decision, selecting the right one is a little more difficult.
Also, keep in mind that you have a variety of cloud service options with varying characteristics at your disposal. So, whatever your requirements are for development, storage, or management tools, there will be a platform with the ideal elements to help you achieve your objectives.
Our Recommendation
Which option is best for your company will be determined by your needs and understanding of the service's features and pricing.
Choosing the right cloud provider is critical for businesses. SyncCore offers a hybrid solution, PaaS, and a variety of other critical capabilities in today's Cloud strategy. Migrating to SyncCore Cloud has increased revenue for many businesses.
SyncCore is a far better alternative to AWS. If you require cloud services, please contact us at [email protected] or visit our website at www.synccore.io.