In terms of managed IT services, small businesses stand to earn significantly. Small business owners can benefit from better security, efficiency, and expansion opportunities by working with a managed services provider (MSP).
Managed services can also aid in cost savings and downtime reduction. Here, we'll go through how switching to an MSP can help your company grow in novel ways.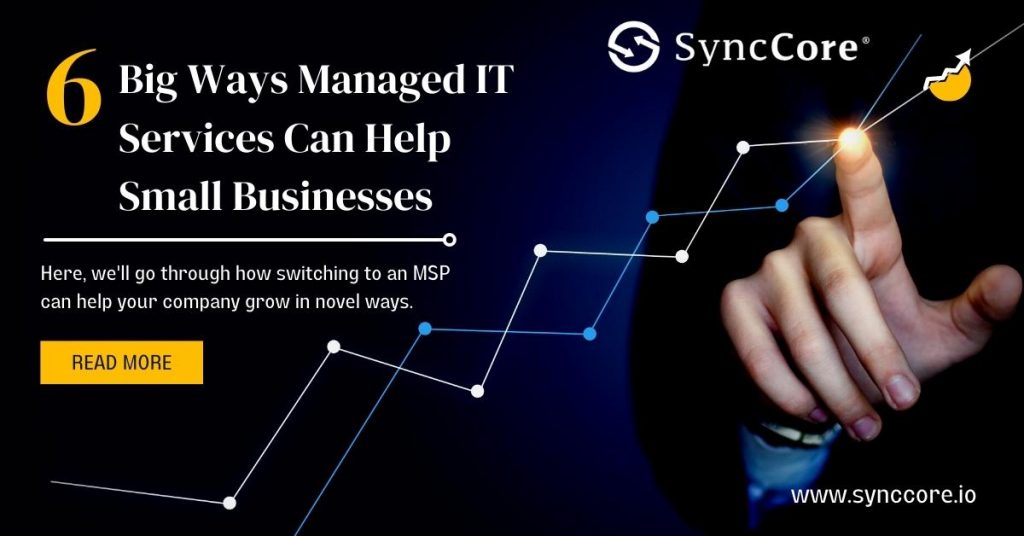 Improved Security
Improved security is one advantage of managed services that small businesses cannot afford to ignore. Data leaks and cyberattacks are becoming more prevalent in today's environment. By delegating your IT requirements to an MSP, you may feel secure knowing that your data is in excellent hands.
An MSP will be equipped with the know-how and resources required to protect your data from hackers. To be ready in the case of an attack, they can also assist you in creating a disaster recovery plan. This can protect your company's data, clients, and reputation in the event of a successful assault.
IT Management
Another benefit is that managed IT services relieve you of the responsibility of IT management. Should you work with an MSP, they'll take care of all of your IT requirements, from keeping an eye on your system to offering assistance when issues emerge.
This can provide you and your staff a ton of extra time so you can concentrate on other areas of running your company. Additionally, you won't have to worry about keeping up with the most recent IT trends or spending money on gear and software.
Increased Productivity
Workplace productivity might also rise as a result of managed IT services. Your staff members may perform more effectively and confidently when they access the most recent technology and round-the-clock support.
You won't have to worry about technological problems leading to downtime using an MSP. If a problem does occur, your MSP will act immediately to fix it so you can resume your normal operations.
More Opportunities for Growth
Managed services can boost productivity while also presenting more chances for professional advancement. You may scale up your IT infrastructure as needed by working with an MSP without worrying about the expense or difficulty of managing it yourself. This can allow you the freedom to take on new projects and grow your company without encountering IT difficulties.
Cost Savings
Despite the many advantages of managed services, cost savings remain one of the primary drivers for small businesses to switch. You can spend less on hardware and software when outsourcing your IT requirements to an MSP. Additionally, you'll have a more dependable payment method for IT-related costs, eliminating the need for unforeseen break/fix fees.
Decreased Downtime
Managed services can also aid in reducing downtime. You can avoid frequent technical problems that might result in wasted time and decreased productivity by outsourcing your IT requirements to a professional.
Downtime can also end up costing you tens of thousands of dollars. In the event of a significant issue, your MSP will act promptly to fix it so you may resume normal operations as soon as possible.
Need Managed Services for Your Small Business?
As you can see, there are many managed services benefits that small businesses can take advantage of. An MSP can help your business in several ways, from improved security to increased productivity.
Are you looking for a managed services provider? Contact us today to see how we can help your small business.