Best Cloud Service For Photos
The way we preserve and share our memories has changed as the digital age has advanced. Photos have become more and more important in our lives as cell phones and digital cameras have grown in popularity. Additionally, thanks to the development of cloud storage services, we can now easily store, share, and access our photos from anywhere, at any time.
Choosing the best cloud storage service for saving images can be difficult, though, with so many options on the market. The finest cloud service for photographs, SyncCore Cloud Services, will be reviewed in this article along with explaining why it is the ideal option for saving your priceless memories.
Users can save and exchange information securely and dependably with the help of SyncCore's cloud storage service. It is a robust cloud service with several features that provide many advantages, such as automatic backup, simple file sharing, and synchronization across many devices.
Here are some of the reasons why SyncCore Cloud Services is the best cloud service for photos: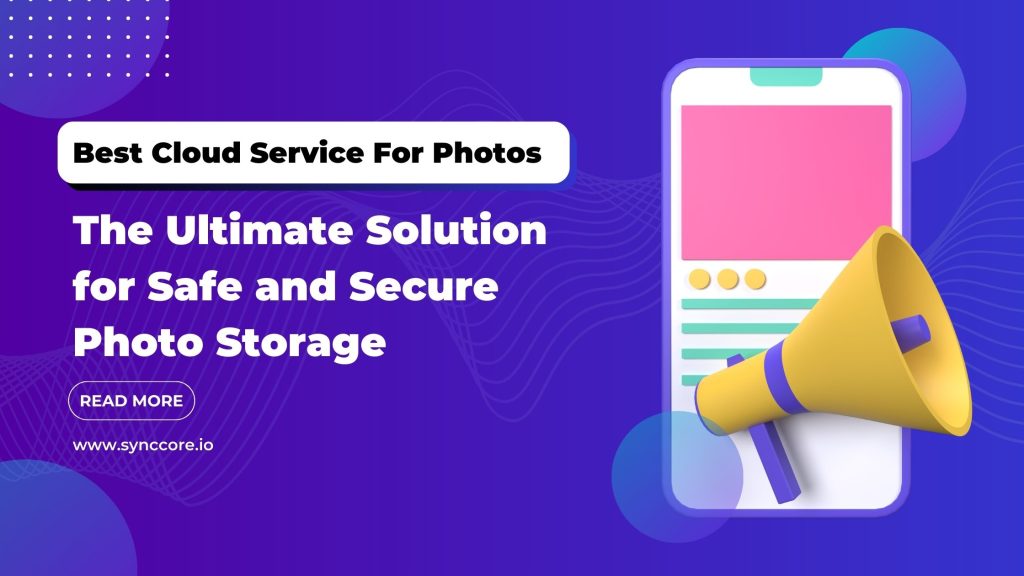 Unlimited Storage Space:
The fact that SyncCore Cloud Services offers users limitless storage capacity is one of its key benefits. Users of other cloud storage services are frequently restricted to a certain amount of storage space, and if they go over that limit, they could have to pay for additional storage. Users may keep as many photos as they like without having to worry about running out of space thanks to SyncCore Cloud Services.
Automatic Backup:
Automatic backup is a feature of SyncCore Cloud Services, which implies that it backs up your images and other files as soon as you save them. Even if you neglect to manually back up your images, this feature makes sure that they are always safe. Additionally, SyncCore Cloud Services keeps a copy of any accidentally deleted files for up to 30 days so you can restore them if necessary.
Advanced Security:
When it comes to saving images, security is of utmost importance, and SyncCore Cloud Services takes this seriously. End-to-end encryption is a feature that ensures that all data is encrypted before it leaves your device and stays that way until you need to access it again. Your images will be protected from prying eyes thanks to this.
Easy File Sharing:
Sharing files with friends and family is simple with SyncCore Cloud Services, making it convenient to share your images. You can allow other SyncCore Cloud Services users access to your files or create links to your images to distribute them via email or social media.
Compatibility with Multiple Devices:
Mobile phones, tablets, and PCs are all compatible with SyncCore Cloud Services. As long as you have an internet connection, you may access your images from any device at any time. The synchronization across many devices feature of SyncCore Cloud Services allows any changes you make to a file on one device to be automatically updated on all other devices.
Affordable Pricing:
Plans for SyncCore Cloud Services start at just $5 per month, making them very reasonably priced. This makes it a fantastic option for anyone looking for a dependable cloud storage service without going over their budget.
As a result of its limitless storage capacity, automatic backup, cutting-edge security, simple file sharing, compatibility with numerous devices, and reasonable pricing, SyncCore Cloud Services is the best cloud service for images. You can easily store and share your images with others using SyncCore Cloud Services while being certain that they are secure. SyncCore Cloud Services is a good option to test if you're seeking for a dependable cloud storage service for your images.
Read More:
How Can Cloud Computing Save Money?