How The Pandemic Has Accelerated Cloud Adoption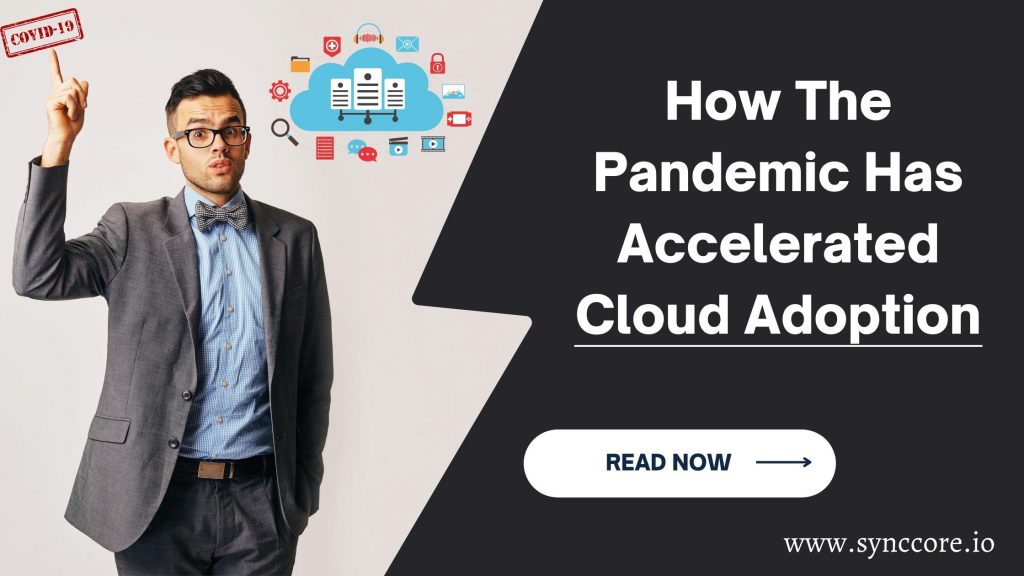 Over the last few years, "digital transformation" has become a buzzword, with small and medium businesses and giant corporations migrating to the cloud and adopting online productivity and collaboration tools.
The Covid-19 pandemic's forced lockdown and remote working were an unexpected reality check for businesses of all kinds. The pandemic's restrictions turned the world upside down, with industries like tourism and hospitality going bankrupt and countless businesses struggling to survive.
Because of the unpredictability of the times and the potential reality of the "new normal," an increasing number of businesses are laying out their plans for cloud computing and digital transformation.
Microsoft CEO Satya Nadella stated just a few months into the epidemic that the company had experienced two years of digital transformation in two months as its customers began to adopt cloud solutions.
Why did Covid-19 accelerate cloud adoption?
In some ways, the global health crisis has acted as a de facto catalyst for re-establishing the value and flexibility of cloud computing, resulting in its rapid adoption.
The global health crisis has proven to be a boon for the cloud sector, with a significant increase in cloud use across a wide range of industries. According to Gartner, in the wake of the Covid-19 incident, global end-user spending on public cloud services is expected to climb 18.4% to $304.9 billion in 2021.
Here are some of the critical reasons for this accelerated adoption:
1. Business resilience
Many previous discussions regarding cloud computing focused on current infrastructure for faster innovation, shorter time to market, and cost reduction. However, the pandemic has brought into sharp focus factors such as flexible computing power, high availability, disaster recovery, lower backup, and disaster recovery costs, resilient core for business process and business continuity, legacy skill risk, remote workforce management, safe return to work, and business agility, allowing for resilient business functions.
According to a recent Flexera survey, Covid-19 has resulted in a considerable rise in cloud spending for 27% of leaders.
2. Evolution of business operations
As a result of increased demand for e-learning, telemedicine, robotics, composite artificial intelligence (AI), augmented reality (AR) and virtual reality (VR) scenarios, intelligent chatbots, digital payments, virtual retail experiences, and other technologies, many businesses have pivoted for the socially distant era.
As more individuals turned to online buying and video-streaming services, the e-commerce business grew exponentially, with more people remaining at home and having few other entertainment options. Traditional merchants and brick-and-mortar businesses have shifted to online ordering, curbside collection, BOPIS (buy online, pick up in-store), and home delivery to maintain their customer base.
3. Remote working
The importance of the cloud for company continuity with remote workforces and smooth online collaboration has been highlighted by pandemic and small working scenarios.
4. Healthcare investments
The healthcare business has taken center stage due to the epidemic, caregiving, and the race to discover a vaccine. A growing number of cloud service companies are delivering vertical cloud products aimed at the healthcare industry. These services can take advantage of the cloud to meet the needs of AI-based research and development, telehealth, and crisis management, all while adhering to data security regulations and HIPPA compliance.
5. Online education
As a result of the global lockdowns, many schools and institutions quickly switched to online course delivery and operations. The education business embraced the cloud to conduct and process tuitions, evaluations, and admission examinations. Even the small but expanding edtech sector grew in size, prompting companies to expand their services and capabilities.
6. Accelerated investments from the public sector
Normally hesitant in any transition, government departments and other institutions show new interest in cloud adoption to provide residents with services in the remote-by-default and socially distant era. As a result, the public sector has seen extraordinary growth in cloud use, particularly for government-to-citizen (G2C) services.
7. Renewed focus on environmental sustainability
Environmental sustainability has become a corporate necessity in recent years to win the trust of customers, partners, and governments. Organizations are turning to the public cloud to reap the benefits of reduced carbon emissions.
What are the challenges of accelerated cloud adoption?
• Finding skilled talent:
IT administrators like the familiarity of the status quo, which they believe is attained by a perceived balance of cost/complexity and business benefit. The migration of existing infrastructure to the cloud necessitates a considerable investment, planning, a mentality shift, and specialist expertise, which must be hired externally or upskilled inside. To get the most out of cloud expenditures, IT organizations must be more agile and use proactive rather than reactive models.
• Compliance and security concerns:
Cloud computing comes with its own set of dangers and obstacles, which service providers must assuage before a company embarks on such a path. These include one-of-a-kind pricing and cost structures, migration obstacles, and compliance and security concerns due to the quick introduction of cloud-based services in response to shutdown limitations.
• Relevant new operating models and business strategies:
Even after the pandemic, the cloud will be established as a key instrument for offering an agile platform for developing solutions faster with no capital expenditures (CAPEX) for IT infrastructure, thanks to the shared experiences of this period.
Today, as we deal with the enormous operational ramifications of the Covid-19 outbreak, cloud migration is becoming increasingly crucial for businesses. I believe cloud adoption will accelerate significantly after Covid-19. After the attack has passed and we enter the more robust "new normal," industry experts will have to examine if organizations consider cloud services as only a temporary solution to weather the storm (hopefully sooner rather than later).
Read More: