Awesome SyncCore Products
Any one of these products can help businesses start operating in the cloud quickly and easily—but how many of these products do SyncCore professionals use at any given time? Which products are the most popular?
So, we've prepared the Top 8 SyncCore Product List for you which clears your confusion and helps you to find a list of essential services that fit your project implementation.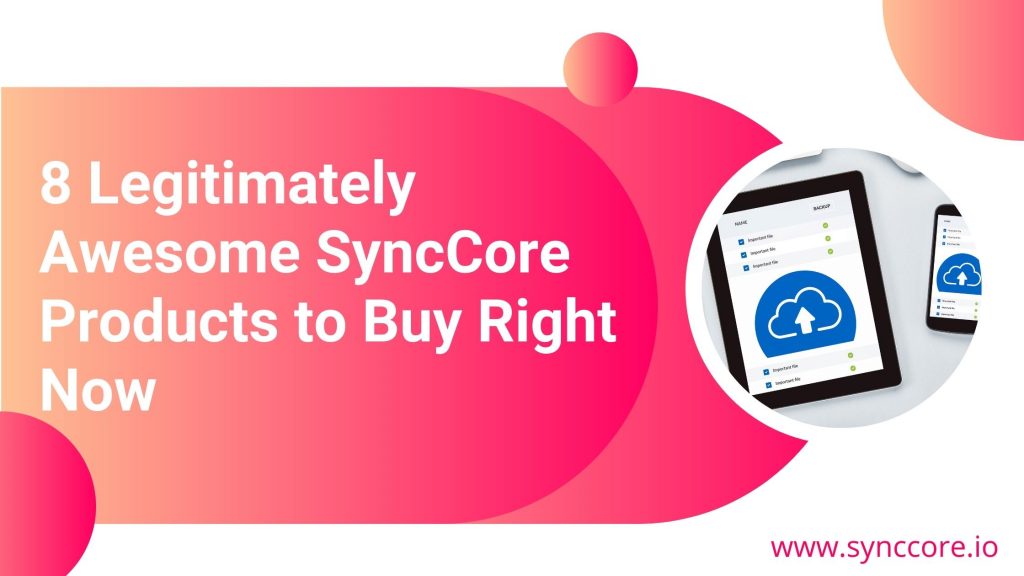 Cloud computing has transformed the technology industry in recent years. With it, tech businesses no longer need to make significant investments in hardware and infrastructure; instead, they can buy just the right amount of computing resources to run their IT departments on a pay-as-you-go basis.
SyncCore Cloud services are compatible building blocks for the development and deployment of any specific kind of cloud application or expanding the existing cloud environment. SyncCore products are technologically aligned with each other to bring to life highly scalable and refined products. SyncCore owns and operates the hardware necessary for maintaining its services.
List of the top must-have SyncCore Product:
1. Cloud Backup:
SyncCore Backup Protection Bundle delivers an easy and affordable way to back up and recover virtual machines, physical servers, and critical legacy systems for businesses of all sizes.
Get the file and image-level backups over secure access.
2. Disaster Recovery
SyncCore DR software keeps critical business systems available and prevents data loss on Windows and Linux servers. Our continuous replication maintains an up-to-date copy of your operating environment without taxing the primary system or network bandwidth.
3. Virtual Desktop
A fully customizable cloud desktop for businesses of all sizes. We improve your efficiency so you can focus on what matters.
4. UltraIOPS Storage
UltraIOPS is our in-house developed storage technology that gives you industry-leading performance and reliability. Try out the world's fastest cloud for free! Sign up now for our 7-day free trial with no commitment.
5. BoxIO Object Storage
BoxIO Object Storage Store and deliver vast amounts of content. S3-compatible object storage that makes scaling easy, reliable, and affordable.
6. CoreBox Backup
The turnkey solution simplifies data protection service delivery for SMB's supporting physical, virtual and multi-site locations. And inclusive of hardware replacement.
7. CoreBox NAS
Turnkey solution simplified for centralizing, securing and controlling access to your digital asset. With supporting cloud storage backup, and multi-site replication. And, inclusive of hardware replacement.
8. CoreBox Full Stack VDI Solution
SyncCore enables organizations of any size to consolidate their applications & desktop computing to the data center and deliver the same as Virtual Workspace. With support for cloud storage backup, and multi-site replication and, inclusive of hardware replacement.
Conclusion
Many organizations agree that the top 8 most used SyncCore Services are like treasures waiting to be discovered in the cloud. Not only are they cost-effective, but SyncCore is secure and help to ensure continuous operational efficiency. We can assist with the analysis, roadmap, implementation, and optimization of any SyncCore service you feel will meet your infrastructure needs.
For additional information, get in touch with us via [email protected]
Read More: