Tips for Choosing the Right Cloud
"Whenever you see a successful business, someone once made a courageous decision."
The famous lines by Peter Drucker explain the importance of decisions, better quoted as the 'right decisions,' for business transformation and strategic growth.
'Cloud' is the new means of doing business in today's world. It is no longer a possibility for many companies but has become a reality.
The cloud is the new hope for every budding entrepreneur in India, where there is a mismatch between the scope of prospects and the talent pool. "India boasts 250 million individuals with web-connected devices, which mainly rely on cloud services for applications and other functions," according to the 2016 ITA Cloud Computing Top Markets Report. "The key drivers include quicker internet penetration and smartphone adoption rates."
According to Gartner, India's high expenditure on cloud services will continue through 2019, when the market is estimated to exceed $1.9 billion.
With such a large market of new prospects, knowing the right cloud for your business and finding the best cloud hosting provider in India is critical. However, with so many possibilities and varieties, choosing the cloud that best suits your business can be tricky, especially in the Indian market.
This post will provide you with some simple tips to assist you in choosing the right cloud for your business in India.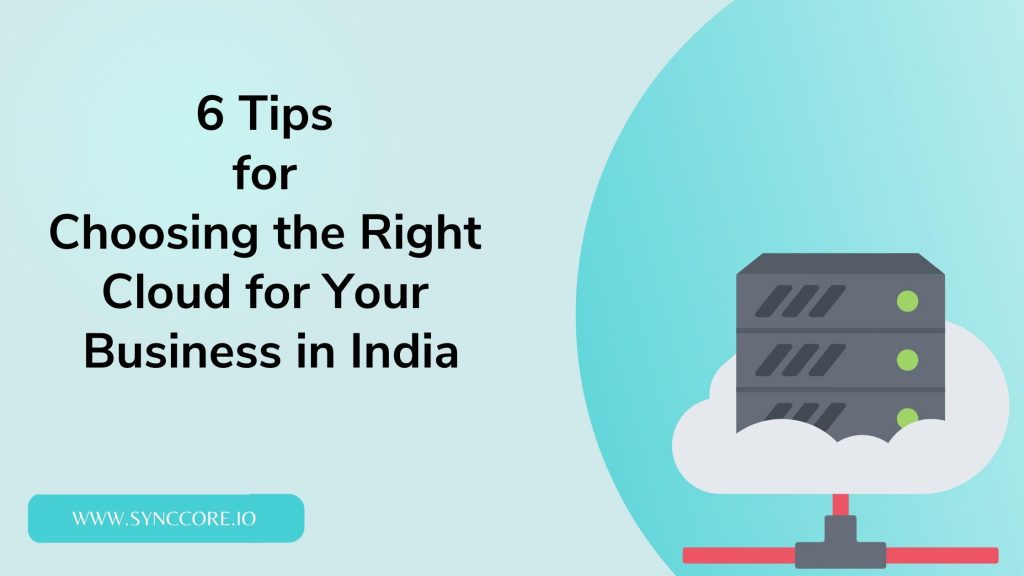 Tips for choosing the right Cloud for your business
1. Identify your business needs
The 'how' is simple once the 'why' is understood. It's simple to identify answers for your business demands if you know what they are. SMBs, which are already transitioning to cloud-based services, govern the Indian market.
In the Indian market, the cloud's lower upfront expenses and more excellent scalability features are the best features for your business, as the initial investment of launching any new endeavor is a barrier for many people with limited resources.
2. Need Scalability with fewer upfront costs – go for the public cloud
The Indian market is still developing. Most businesses want a cloud platform that provides maximum scalability and operational flexibility. It is also great for a firm to cut down on its early operating costs due to its pay-as-you-go functionality.
The public cloud gives pace to your business growth with features like:
Economical setup.
Easy availability of resources.
High capacity.
Utility model.
3. Need high security – go for the private cloud
A private cloud can be the ideal cloud deployment scheme if your business data and information demand high security and personal space. Due to the increased demands for safety and performance by Indian businesses, companies such as IBM are focusing more on private cloud deployment in the Indian market.
Get security.
Get personal space for your server.
Get metered consumption for booked resources.
Get flexible resource quantity based on needs.
4. One option is not enough – go for the hybrid cloud
While both private and public clouds have advantages and disadvantages, if neither of them is ideal for your business needs, consider a hybrid cloud. It combines the best of both worlds. If you're hesitant to migrate all of your applications to the cloud at once, the hybrid cloud allows you to prioritize which applications to move.
Speed.
Lesser cost.
High performance.
Bridges the gap between cloud adoption pace.
5. Work out the cost
Always calculate the return on investment. Even though the cloud is cost-effective, calculating your profit from a deal is always a good idea. Assess your needs and required resources to ensure that you are not overburdening them, and look for a cloud hosting provider who knows your business and can supply you with a cost-effective cloud solution.
6. Updated – stay ahead
Because the cloud is a rapidly growing industry, it is vital to keep up. Don't get stuck in a rut; keep learning about new cloud options and accepting further adjustments and advances. It is critical to surviving in the market; thus, you should avoid falling behind your competition. The cloud is undoubtedly a long-term investment, particularly in the Indian market, which is constantly upgrading.
Conclusion
A good cloud solution is vital for your company because it aids in proper growth. With big cloud providers eyeing India for cloud deployment techniques, your company will never be short on opportunities for development and advancement.
The right cloud solution is essential for your business as it aids in proper enterprise development. With big cloud players identifying the Indian market for cloud deployment strategies, your business will never lack the chances of growth and improvement. We hope that our tips on choosing the right cloud services provider for your business will undoubtedly help your business make a successful move towards the cloud. If you are looking for Cloud Services, Synccore cloud is the first autonomous cloud platform with free workload migration. SyncCore Cloud is one of the Best in industry solutions. Check out SyncCore Cloud Services Here. For inquiry mail us at [email protected].
Read this article: