Best Cloud Service Providers for Startups: Do you own a small business that needs cloud technology to help with your work? We have compiled a list of the top cloud service providers for startups. You can choose the one that suits you best.
Gartner's latest forecast predicts that the global end-user spending for public cloud services will rise 23.1% to $332.3 billion by 2021, which is an impressive increase from last year.
Emerging technologies are responsible for the growth in cloud computing usage. This includes Containerization. Virtualization, Edge computing, and other emerging technologies are also included.
Best Cloud Service Providers for Startups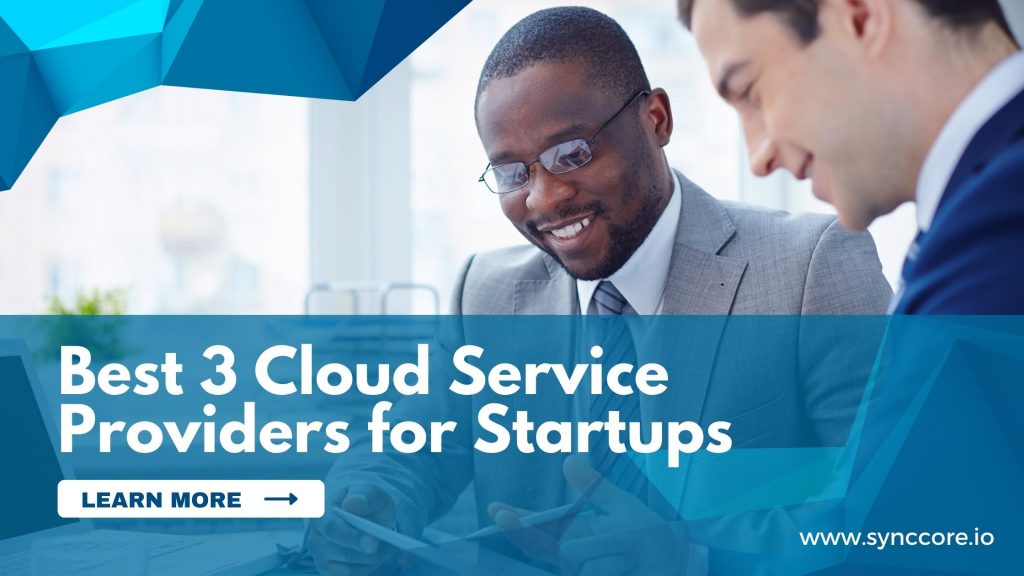 Why do Startups Go For Cloud?
Cloud Services offer flexibility and versatility. Instead of purchasing a server or setting up a data center, you can rent storage and connection from a cloud provider. Cloud computing has the advantage of being a pay-per-use model. This means that customers are charged or metered for the specific use of a product or service. Pay-as-you-go offers startups and small businesses flexibility and lowers IT costs. They can, therefore, always be ahead in this highly competitive market.
Benefits of Cloud Technology to Business of Every Size
Reduced Cost
Resources Flexibility & Mobility
Resilient Data Security
Effective Collaboration
Better Integration Opportunities
Scalability
List of Cloud Service Providers for Startups
Popular cloud service providers like SyncCore Cloud and Amazon have designed cloud services to assist startups, and small businesses move to the cloud at a low cost. To support the startup ecosystem, they have partnered up with top-of-the-line incubators.
Cloud Providers for Startups
SyncCore Cloud
Amazon Web Services
Microsoft Azure
#1 SyncCore Cloud
SyncCore Cloud is the first autonomous cloud platform. SyncCore is a cloud revolution for SMEs and Enterprise Companies by providing low-priced cloud computing services to help your organization meet its business challenges.
SyncCore gives you the flexibility and freedom to build, manage and deploy applications on global networks and high-performance technology platforms.
SyncCore Cloud is built up from the ground with security as the priority. A dedicated firewall, VLAN, and option to block top spamming countries on the firewall for extreme protection.
Get connected to your cloud workload using a secure VPN or site-to-site tunnel. SyncCore's proactive approach to security, compliance, and privacy is unique and consistently meets security and privacy requirements.
#2 Amazon Web Services
AWS is not a term that needs to be used. AWS is a well-known cloud platform that provides many services to meet all market requirements. AWS offers various services, including computing power, data storage, content delivery, and other functionality. If you use them directly, it is possible to have problems with AWS hosting services. They have many clients, so it might not be possible to solve every problem as quickly as possible.
#3 Microsoft Azure
Microsoft launched MS Azure in 2012. They are now the only company with servers in more geographic regions. Small businesses and startups can choose where their data will be hosted.
Azure offers a wide range of cloud services, including IaaS. This increases Azure's appeal to startups and enterprises. There is an issue with support, just like AWS.
Cloud Service Providers For Startups: Who to Choose?
Cloud services are the perfect choice for startups and small businesses that want to develop an online presence and optimize applications and processes.
To get started, select the best cloud service provider for your small businesses to make your cloud journey smoother.
Choosing the correct cloud vendor plays a vital role for businesses. SyncCore provides a hybrid solution, PaaS, and a variety of other valuable capabilities that are critical in today's Cloud strategy. Migrating to SyncCore Cloud has increased business growth for many companies.
If you require cloud services, please get in touch with us at [email protected] or visit our website at www.synccore.io.
Read More:
The Difference Between Edge and Cloud Computing
Cloud Services for Business Continuity and Disaster Recovery