Cloud Computing for Marketing
Cloud computing has become an essential component of today's business world. Many industries worldwide use cloud-based services for storage, cloud analytics, disaster recovery, and other purposes, ranging from IT and automotive to health and retail.
Cloud-based services also aid in the streamlining of business processes and operations. Cloud-based marketing is one such helpful service that is becoming increasingly popular. Customers nowadays expect personalized experiences, and cloud-based marketing solutions can assist businesses in providing them.
In addition to providing a personalized customer experience, cloud-based marketing software aids in the automation of marketing operations, reducing costs, improving collaboration, and other benefits. Cloud marketing services can also help to increase marketing ROI.
In this article, we will define cloud marketing and discuss how businesses can use cloud technology in marketing. We'll also go into cloud marketing solutions, mobile marketing cloud, cloud-based digital marketing, cloud computing ads, cloud marketing examples, and other key concepts.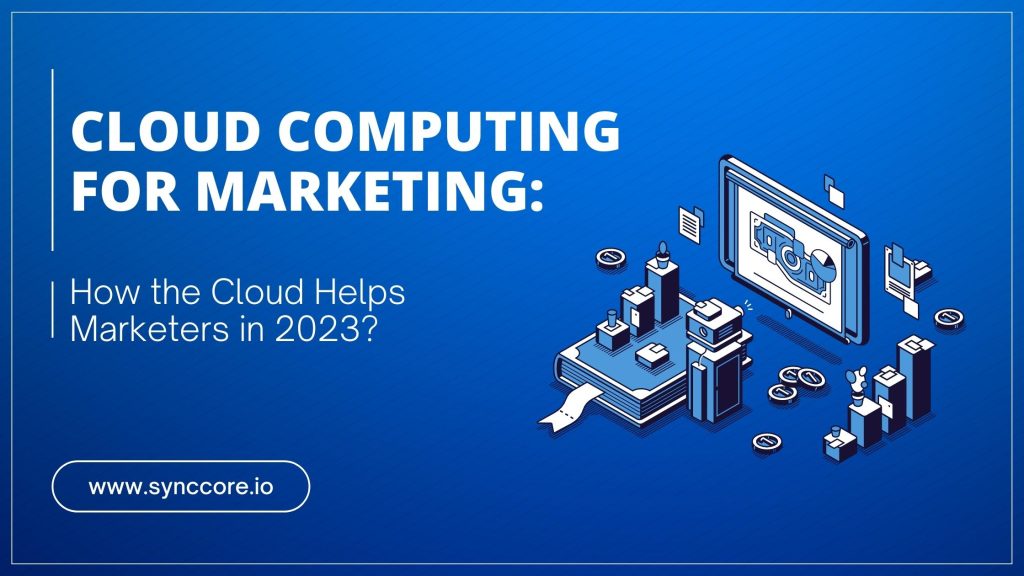 What is Cloud-Based Marketing?
Cloud marketing refers to an organization's digital marketing efforts that involve the use of various web-based tools. Social media, websites, apps, emails, and other online platforms are used in cloud computing marketing. This is part of a cloud marketing strategy when you see ads from a specific company on social media platforms like Facebook, Instagram, or Twitter.
Simply put, cloud marketing encompasses all of the methods and techniques used by businesses to advertise their goods and services online. A cloud-based marketing platform, on the other hand, offers specific tools related to digital marketing or online advertising.
Businesses used to advertise on media platforms such as television, radio, and print publications in the past. However, as global internet use increased dramatically, so did the demand for online advertising. As a result, marketing techniques have evolved, and modern marketing necessitates targeting customers via digital media. Cloud technology marketing is an example of modern marketing.
Businesses worldwide have also moved their data (including marketing data) from local systems to the cloud to take advantage of modern marketing data and analytics tools. This enables them to run more effective online marketing campaigns. Businesses, for example, can now use cloud marketing to track key metrics such as website visitors, views, likes, and shares. These metrics assist you in determining how effective your campaign is and where it can be improved. Similarly, businesses can use cloud marketing automation software to automate their marketing.
In other words, businesses can overcome limitations such as the difficulty in collecting real-time feedback by utilizing these web-based tools and a proper cloud computing marketing strategy. Furthermore, they can now collect more data about their potential customers and develop strategies accordingly.
The Best Cloud Marketing Software's Components
The best cloud computing for advertising agencies includes the following key features:
Using social media tools to reach out to more potential customers across multiple platforms.
Content management tools for organizing and managing the content you deliver to potential customers.
Analytics tools that allow you to assess the efficacy of your cloud-based marketing strategy.
A distribution system with multiple channels.
The Advantages of Cloud Computing in Digital Marketing
Marketing and cloud computing are critical components of modern business strategy. Cloud computing in marketing has several advantages:
Customer Experience Personalization and Targeted Advertising
With the widespread use of the internet by billions of people worldwide, the need for businesses to advertise online has grown. However, with ever-increasing competition, businesses must provide a personalized customer experience in addition to online marketing. This entails tailoring content, ads, and other features to customers' preferences and needs.
Marketing cloud platforms aid in the delivery of personalized user experiences by tracking preferences or trends and displaying similar products based on customers' purchase history and online history.
Access to Powerful Analytics Tools
Businesses can collect massive amounts of customer data, but it will be useless unless it is analyzed to yield meaningful insights. Businesses and marketing firms that use cloud computing gain access to use cloud-based analytics tools in addition to valuable customer data. These powerful tools have tremendous processing power and thus high efficiency. Marketers, for example, can monitor the number of visitors, views, shares, likes, and comments on a post. Similarly, they can analyze open and click-through rates for emails using cloud-based email marketing tools.
Scalability and Flexibility
Cloud marketing provides on-demand capabilities as well as great flexibility. Organizations can use cloud-based servers to scale up or down as their business grows. For example, when they begin to generate more data, organizations can request that marketing cloud providers increase cloud storage or data analytics capacity. As a result, a cloud marketing agency assists businesses in quickly and efficiently responding to customer demands.
Cost-Effective
Cloud computing in advertising saves businesses money. Traditional marketing via television or newspapers is expensive. Cloud marketing via platforms, such as social media posts, on the other hand, is free. Even paid advertising via cloud marketing platforms is less expensive than purchasing ad space on traditional marketing media platforms.
Collaboration
Another advantage of using cloud-based platforms is that they enable employees to collaborate from any location. Employees can collaborate in real-time by sharing files and accessing data remotely.
Better Data Security
Cloud computing has improved data security for businesses and marketing firms. This is a significant benefit because customer data is critical to marketing campaign success. Businesses cannot afford to lose this data, and top marketing cloud platforms reduce the risk of data loss by storing your data on multiple servers.
The best marketing cloud prevents data breaches, ensuring the security of sensitive and confidential customer data. This also aids in meeting privacy regulations and laws.
Cloud Marketing Automation
Marketing automation is the automated management of marketing and sales processes and campaigns across multiple channels. Businesses can use cloud-based marketing automation to automate time-consuming sales and marketing tasks like lead qualification. A marketing automation cloud strategy also includes sending automated messages via text, email, and social media platforms.
Cloud Marketing on the Distributed Cloud
Ridge Cloud unlocks the full potential of cloud marketing by providing an addition to the public cloud model. Its integrated distributed platform gives businesses the most control and ease of use when integrating cloud computing into their marketing strategies. Ridge is interoperable with any legacy infrastructure, whether on-premises servers, local data centers, or hybrid cloud, and can be accessed via a single API.
Conclusion
When you consider all of the benefits that cloud computing solutions provider, embracing the technology and incorporating it into your digital marketing campaign is one of the best decisions you could ever make for your business.
Its advantages are as numerous as they are long-lasting, making it a worthwhile investment worth making. Don't pass up the opportunities that cloud technology offers for your digital marketing campaign. Do you need expert advice to improve your marketing efforts? Please do not hesitate to contact us.
Read More:
The 7 Most Popular Cloud Computing Applications You Should Know