Alternatives Amazon Web Services: Why look for AWS alternatives when Amazon Web Services (AWS) provides a wider range of services than any other IaaS provider? We look at some of the alternatives to AWS and the services they provide, as well as why businesses may prefer certain IaaS providers over the industry leader.
The worlds leading cloud services provider, according to the AWS pricing page, offers over 120 cloud services. That is significantly more than any other IaaS provider. Despite the fact that the variety of services is a great selling point, it is also a factor that drives businesses to seek AWS alternatives. Why? Because the options are numerous and, for many businesses moving to the cloud, confusing.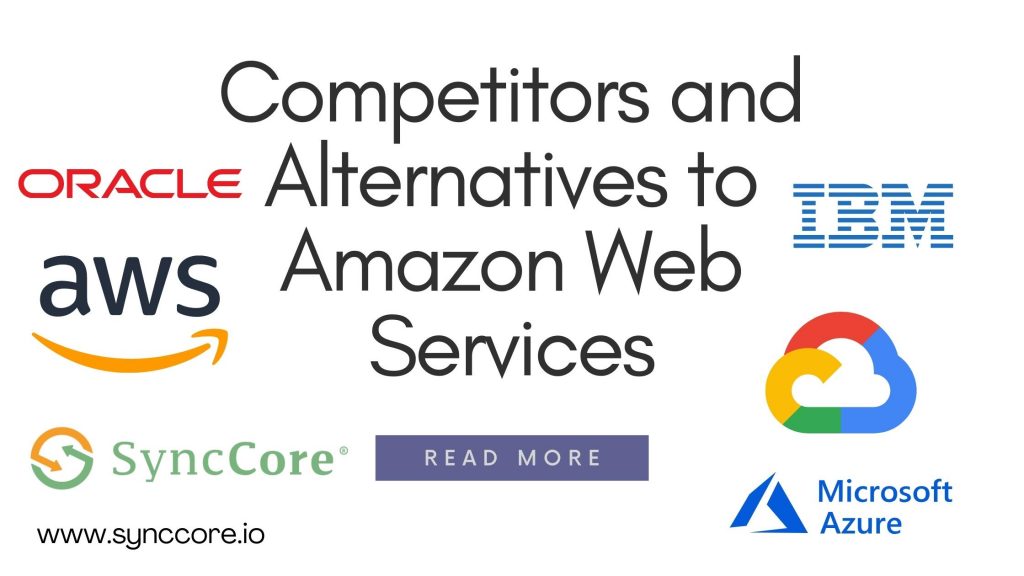 What are the alternatives to AWS?
On its website, Wikipedia lists 265 cloud computing providers. Some are duplicated because they are owned by a larger cloud computing provider, and not all of the providers on the list provide a full range of IaaS services. Gartner, which published its Magic Quadrant for Cloud Infrastructure-as-a-Service, is a better source of AWS alternatives.
Alternatives Amazon Web Services
Microsoft Azure
Google Cloud
SyncCore Cloud
Oracle Cloud
IBM Cloud
What do AWS alternatives have to offer?
Each of the AWS alternatives has specific strengths that may appeal to businesses looking to advance in these areas. Alternatively, businesses may prefer to use a less complex cloud service than AWS.
Microsoft Azure
Microsofts position in the IaaS market stems from its experience working with enterprise platforms. Businesses that were already using Microsofts enterprise solutions found it simple to migrate to the Azure platform, while seasoned programmers used to developing.NET applications and Windows client applications in C# found it a natural transition.
Microsoft Azure Stack extends the clouds flexibility, agility, and scalability to on-premises IT infrastructures. Businesses can deploy services in their own data centres, in the data centres of hosting partners, or in the cloud while maintaining complete control over cost, performance, and security. In this regard, Microsoft Azure is an excellent choice for businesses that want to operate in a hybrid cloud environment.
Google Cloud
The most frequently cited advantage of Google Cloud over AWS is that it was built with the same technology that powers the companys search engine, web browser, Gmail service, and a slew of other products that work seamlessly with the Android mobile operating system. As a result, Google Cloud is fast, secure, and the preferred platform for Android mobile app developers.
Google Cloud has recently emerged as the industry leader in cloud container deployment, orchestration, and management. Not only is Google Cloud ahead in the development and release of container-related services, but Googles container prices are lower than AWS or any of the alternatives to AWS, making it worthwhile to consider just on price.
Google Clouds investment in Machine Learning (ML) and Artificial Intelligence is likely to make it one of the leading AWS alternatives in the future (AI). Weve already seen some examples of what ML and AI can do with auto-suggest replies on Googles mobile Gmail app, and whats to come in this area of cloud computing could be mind-blowing.
SyncCore Cloud
The first autonomous cloud platform is SyncCore Cloud. SyncCore is a cloud revolution for SMEs and Enterprise Companies, offering low-cost cloud computing services to assist your organisation in meeting its business challenges.
SyncCore empowers you to build, manage, and deploy applications on global networks and high-performance technology platforms.
SyncCore Cloud is designed with security as a top priority. For maximum security, use a dedicated firewall, VLAN, and the option to block top spamming countries on the firewall.
Use a secure VPN or site-to-site tunnel to connect to your cloud workload. SyncCores proactive approach to security, compliance, and privacy is unique and meets security and privacy requirements on a consistent basis.
SyncCore already has hybrid solutions in place, whereas Amazon is still experimenting with them. It seamlessly connects data centres to the cloud. SyncCore provides a unified platform for mobility between on-premises and public cloud environments.
SyncCore, on the other hand, enables the use of tried and trusted technologies that many businesses have used in the past and continue to use today.
Oracle Cloud
Despite having developed some of the most innovative software systems for more than four decades, Oracle was a latecomer to the IaaS market. Indeed, Oracle developed AWS Relational Database Service (RDS), and businesses using Oracles enterprise solutions have found it easy to integrate them into the Microsoft Azure Cloud.
Some assert that Oracle should focus on developing innovative software systems rather than IaaS, but the company has reported year-on-year cloud subscription growth of a wider margin each year since entering the market. According to Gartner, this growth can be attributed to a well-designed platform with a thoughtful selection of features at a competitive price point.
What may be more significant for some businesses is the recent release of Autonomous Database, a self-driving database that automates management to deliver unprecedented availability, security, and performance at a significantly lower cost. Early adopters of Autonomous Database claim a 14x performance boost over workloads running on other AWS alternatives.
IBM Cloud
The final of our AWS alternatives, IBM Cloud, has a performance and security advantage with its bare metal service. Each server in a bare metal environment has a single tenant (i.e., servers are not virtualized), and because resources are not shared, no hypervisor layer is required, allowing more of the servers processing power to be allocated to the application.
This not only improves the applications performance, but it also allows it to handle more input/output operations per second with more consistent disc and network performance. For security-conscious businesses that are hesitant to migrate data to the cloud, the isolation from other applications improves security and resolves compliance issues.
In offering a bare metal service, IBM Cloud is not unique among AWS alternatives, but what the company has in its favour is its Softlayer service, which allows customers to move workloads from a virtualized environment to a bare metal environment and back again with the click of a mouse. If your company is concerned about performance and security, you should look into IBM Cloud.
Summary of AWS alternatives and their advantages
We are not advocating that businesses abandon AWS and migrate their assets to another cloud service provider by providing a guide to AWS alternatives and what they can offer that AWS cannot.
We believe that the cloud works best when customers can pick and choose which services are best for them-as long as they have mechanisms in place to effectively manage a multi-cloud environment.
Because the cloud is evolving at such a rapid pace, these benefits may be obsolete in a few years. Nonetheless, if you are looking for AWS alternatives for any reason, you may find our summary of AWS alternatives and their benefits useful:
Microsoft Azure:
Best for Microsoft enterprise solution users, C# developers, and businesses considering a hybrid cloud environment.
Google Cloud:
Container technology leader, frequently the least expensive cloud provider, and pioneer in Machine Learning technology.
SyncCore Cloud:
SyncCore provides a hybrid solution, PaaS, and a variety of other valuable capabilities that are critical in todays Cloud strategy. Migrating to SyncCore Cloud has increased business growth for many companies. 
Oracle Cloud:
Although it is still in its early stages, Oracle Clouds Autonomous Database service has the potential to revolutionise data analysis.
IBM Cloud:
Sets the standard for high-performance bare metal servers and the ability to switch between bare metal and virtualized environments.
Conclusion:
Your needs and understanding of the services features and pricing will determine which option is best for your company.
For businesses, selecting the right cloud vendor is critical. In todays Cloud strategy, SyncCore provides a hybrid solution, PaaS, and a variety of other critical capabilities. Many businesses have increased their revenue by migrating to SyncCore Cloud.
SyncCore is a far better alternative to AWS. If you require cloud services, please contact us at [email protected] or visit our website at www.synccore.io.